British Airways (BA) Premium Economy (World Traveller Plus) Review

Review - Travel
31-Dec-2022
---
Over the years I primarily travelled to Orlando with Thomas Cook (RIP) as they were usually the cheapest, and then
TUI who flew from my closest airport, Bristol.
Pre-COVID, I travelled with
Virgin Atlantic for the first time,
and while the overall experience was fine, the plane interior was falling apart and they lost my suitcase. So for my first trip post-COVID, I decided to try British Airways for the first time.
We flew with British Airways from Gatwick. We flew Premium Economy (or World Traveller Plus as they call it). Why they have to call their cabins different things to most other airlines to just confuse people is a little unnecessary. I have been told these planes have been recently refurbished with new touches here and there and bigger entrainment screens on the back of the seats.
The premium cabin is a 2-4-2 layout.
Compared to the economy cabin, which is 3-4-3.
The premium seats are spacious and comfortable enough, but they're not as nice and plush as I would have expected.
I'm 6"1 and leg room was good enough. There is indeed a nice new big and bright screen. The entertainment selection is excellent! There are more movies and TV shows available on here than I have seen on any flight I've been on. I'm not sure if the same selection is available in economy though.
You also get your standard premium amenities like headphones, lip balm etc. When we sat down we were offered our welcome drinks.
Each seat has 2 standard and 2 USB-A plugs underneath.
There is wifi on board, but it's expensive. I wasn't going to pay those prices so I didn't try it.
Here's a look at the food and drink menu for our flight.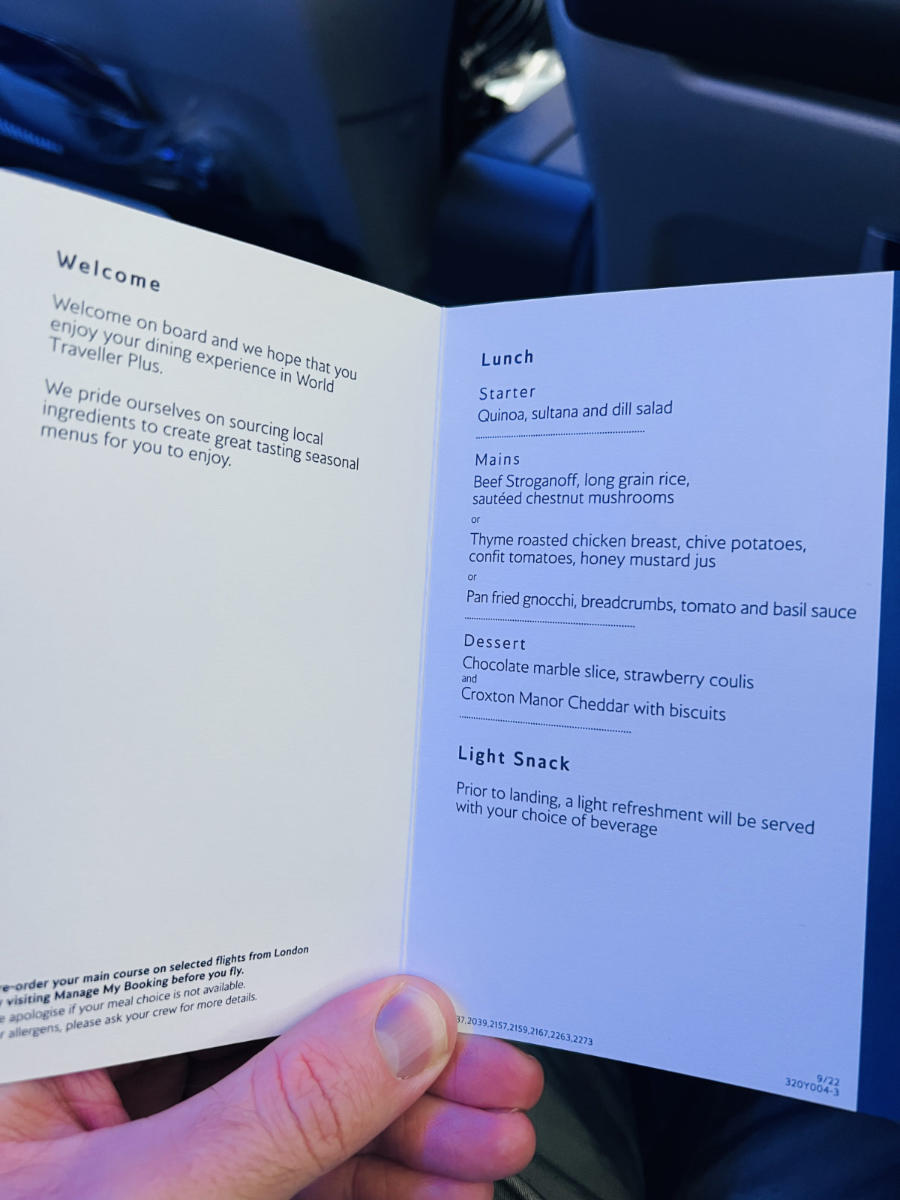 The food arrived and it's what you expect. It's not the worst or the best plane food I've had.
One thing I didn't like on this flight was there was no way to control your own airflow. The whole cabin is air-conditioned, but if you're too hot or cold, you can't control any air yourself. So keep in mind you're stuck with whatever temperature the plane is.
I got super sick towards the end of the first week and we were 2 days away from boarding the Disney Wish. I really didn't want to cruise feeling rough. So after making some calls to Disney to see if they could move our 3-night Disney Cruise to a 4-night Disney Cruise after our Walt Disney World trip, they managed to move us and the price difference for the longer cruise wasn't much at all. (I was totally faking being ill and just wanted the extra night.) Before paying, I called up British Airways to ask if we could move our flight home 4 days later and they were super friendly and helpful and rebooked our flight with just a £50pp fee. Couldn't be happier! So we booked a cheap-ish hotel off I4 for the 3 nights before Walt Disney World (when we were meant to be on the Disney Wish) and chilled in our room recovering while ordering rubbish American food delivered to our hotel. Arby's is not good.
Overall, it was a pleasant and good flight. One thing to keep in mind is that British Airways is now using Terminal C at Orlando International Airport (MCO) and at the time of writing (at the end of 2022) it's a
bit of a nightmare there.
Would I fly with British Airways again? Yes. We have them booked for our next trip. but that's also partially down to
Virgin changing their flights times
and now on select flights they don't land into Orlando until 8 pm wasting half a day, which swayed as back to choosing British Airways.
Our Score 4/5
Join the Mickey From The UK email club & never miss any of our Disney content
Tick the box to confirm you want to opt into our emails
(Your email will never be shared, sold or spammed as outlined in our privacy policy. Only Disney goodness you'll receive.)
Read Next
---
---
View More >