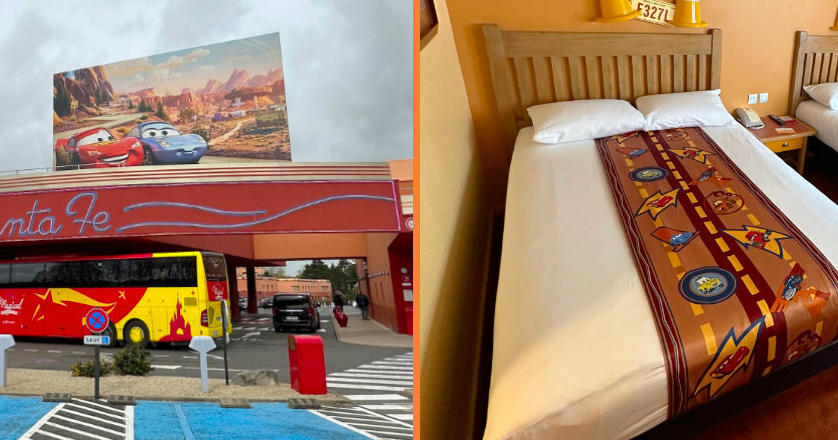 Disney Santa Fe Hotel Review At Disneyland Paris

Review - DLP
17-Apr-2023
---
Disneyland Paris invited us to experience the return of
Disney Dreams
nighttime spectacular in April 2023, so we decided to stay in the only on-site hotel we've not stayed at (or reviewed) for the trip. Disclaimer: We paid for this hotel stay ourselves.
Disney Santa Fe is a two-star hotel - the only two-star Disneyland Paris hotel.
Disney Sequoia Lodge
and
Disney Hotel Cheyenne
are both three-stars. Don't let the fact
Disney Santa Fe
is a two-star hotel put you off though (at least not at certain times of the year), as far as I concluded from some research the only reason
Disney Santa Fe
doesn't get a three-star rating is because of the lack of air conditioning.
Disney Santa Fe
is the farthest Disney hotel from the parks, although it's right next to Disney Cheyenne. It's about a 20-minute walk (maybe a bit longer after a long Disney day) to Disney Village but there is a regular shuttle bus.
The Hotel
Disney Santa Fe
pays colourful homage to Route 66, the American Southwest, and
Cars.
It offers Cars-themed rooms, a shop, Indoor Play Area, character meet and greets, luggage storage service, Starbucks, a restaurant, and a bar. The outside of the hotel has a massive Cars billboard which you can see when entering the resort.
The reception area is largely a boxy feeling room and not particularly inspiring. The cast members we bumped into though was some of the nicest we encountered on this trip. Like magic our room was ready early so we headed straight there.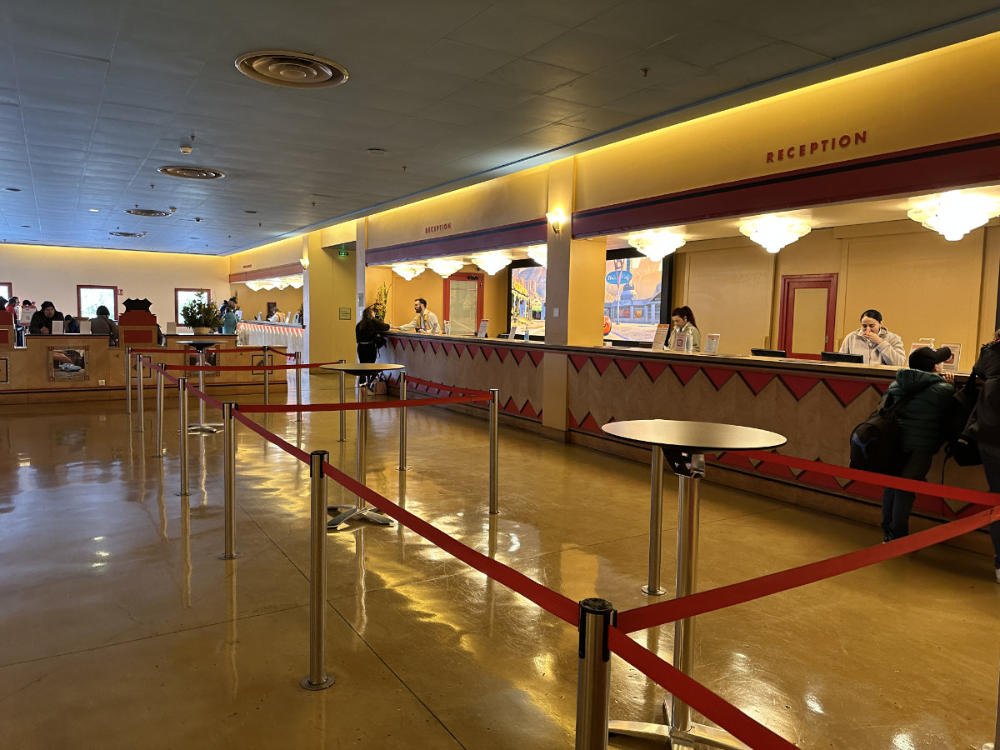 There aren't many pathways through the car park when heading to your room which was a little concerning as we had to mostly walk on the roads. The buildings themselves are a little boxy, but I think there are enough design elements in them which work well but sadly don't photo well. For example, the trees and signs across the top of the buildings look like tacky stickers, but they're actually metal props which you don't notice unless looking side-on.
There are some very cool props around the resort though. One was a giant enclosed cactus and the other was the world's smallest volcano!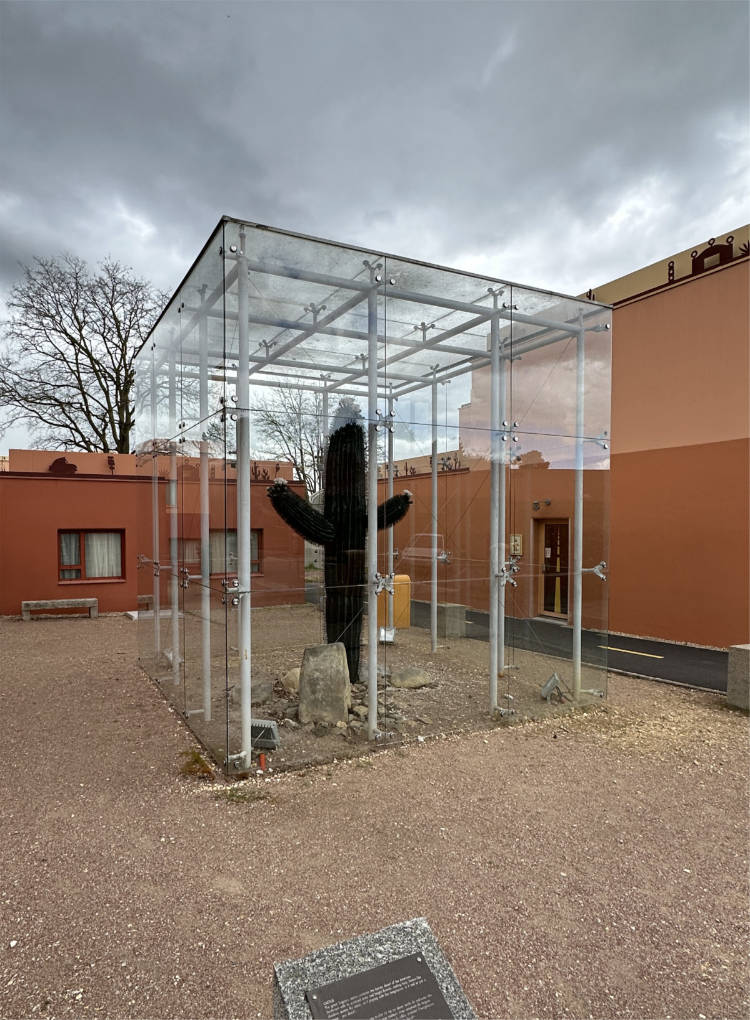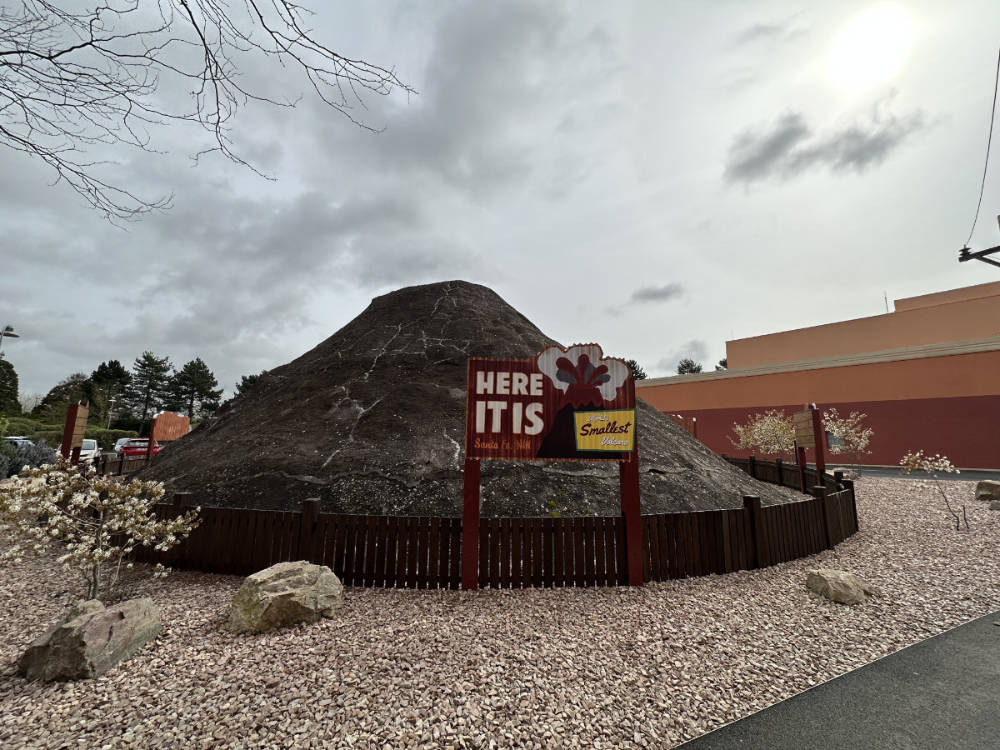 I also enjoyed the paths that had painted road markings on them. Entering the buildings you'll be presented with a blue and orange hallway. I actually quite like the hallway design, they're fun and clean.
The Room
We stayed in the river view room as these rooms are at the backend of the resort, closest to the walkway to the parks. The rooms are pretty basic, but not much more basic than
Disney Sequoia Lodge
or
Disney Hotel Cheyenne.
I'm not sure if they are, but they probably feel overall a touch smaller than those two hotels. One of our beds was a little squeaky (but they do provide two of them!) They were comfortable enough. If you or your little ones love Cars, you're going to love these rooms. I'm not a Cars fan myself but I appreciate the theming and can easily see how those fans will love this. My only real nitpick at the rooms is the cones on the wall are cheap tacky plastic, but I suppose you don't touch them. In contrast, the lamp is super nice and really solid. The room was clean and mostly in good condition. Housekeeping came during the day so we always came back to a nice cleanly made room, although the Cars bed runner wasn't placed back on the bed when made. Still, that's largely nitpicking. One issue for modern families is the lack of plug sockets. I only counted three in the whole room and no dedicated USB sockets. One of the sockets was in the middle of the wall with no table below it so it's largely unusable. Make sure you pack an extension cable.
The bathroom is fun and clean as well. It has plenty of Cars touches and themed amenities.
We had a river side view room which indeed meant we had a view of the river.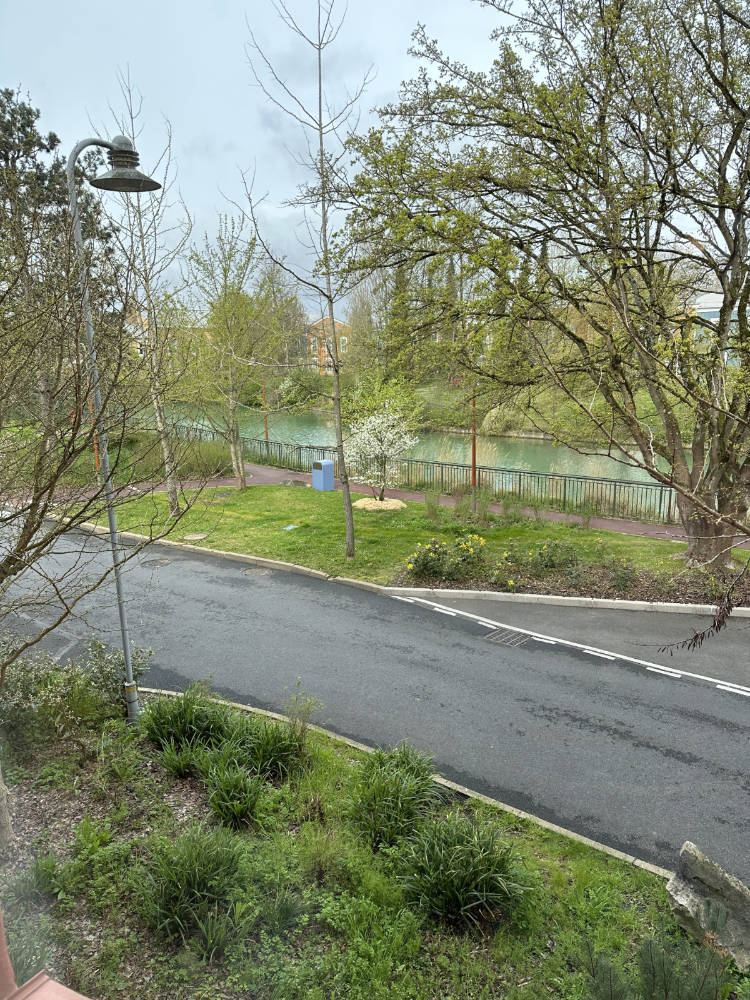 The elephant in the room with this hotel is that there is no air-conditioning. There is a ceiling fan - which is very nice - but I can't confirm the effectiveness of this in the summer months. We stayed in April and while it was a little warm, an open window and ceiling fan did the trick. Just something to keep in mind during any heatwaves. You can go to the reception and ask for extra fans, but there are only so many.
Disney Sequoia Lodge
and
Disney Hotel Cheyenne
do have air-conditioned rooms, but you also might need to request them to let you have the temperature lower because by default it doesn't go that low for energy saving reasons.
Summary
I had low expectations going into our stay at
Disney Santa Fe
, but it was a clean and pleasant stay and much better than I thought it was going to be. Yes, there are parts of the resort that need a touch up of paint here and there, but it's largely in good condition. It's a small step below
Disney Sequoia Lodge
and
Disney Hotel Cheyenne,
but if you or your little ones love the Car movies, I think this will be a hit. As I am not a Cars film fan myself, so nothing is drawing me back here, I would rather stay at
Disney Sequoia Lodge
or
Disney Hotel Cheyenne,
but if the price is a good amount cheaper, I'd have no issue staying here again.
Click here to check out Disney Santa Fe >>>
Join the Mickey From The UK email club & never miss any of our Disney content
Tick the box to confirm you want to opt into our emails
(Your email will never be shared, sold or spammed as outlined in our privacy policy. Only Disney goodness you'll receive.)
Read Next
---
---
View More >