Disney Sequoia Lodge Hotel Review - Disneyland Paris

Review - DLP
31-Oct-2023

---

Our Disney Sequoia Lodge Hotel Review (over multiple stays) at Disneyland Paris.
---
In November 2021 - just after France reopened their borders for the first time - we travelled to Disneyland Paris and stayed in
Disney Hotel New York - The Art Of Marvel
. After returning we booked our January 2022 trip and decided to try
Disney Sequoia Lodge.
We stayed at
Disney Sequoia Lodge
once again in October 2023, and this is our review over both trips.
About Disney Sequoia Lodge
Disney Sequoia Lodge
is one of two 3-star on-site hotels at Disneyland Paris (the other is
Disney Cheyenne Hotel
). The hotel's theme is inspired by the great American National Parks, and the rooms have subtle Bambi touches throughout. There are over 1,000 rooms spread out in the main building and the external lodges. There are 6 external lodges, 5 of which contain guest rooms and the last one contains the pool and leisure facilities. The external lodge rooms are usually a little cheaper than rooms in the main building, but all the rooms are identical. The hotel features a fitness centre, shop, Little Prairie Kids Corner, pool, a bar, and two restaurants. The hotel is about a 15-minute walk to the parks and there is a regular free shuttle service. The hotel also offers character meet and greets on select mornings over in the character spot by the shop.
Disney Sequoia Lodge
also offers Golden Forest club-level rooms which can cost quite a bit more but come with extra perks like private reception, included all-you-can-eat breakfast, snacks and non-alcoholic drinks throughout the day in the private lounge, and a turndown service. The Golden Forest rooms themselves are almost identical to the standard rooms but do have a fridge in the room. There are also suites available.
Standard Room
On one trip we stayed in a standard room that was located in the Yosemite Lodge, and on the other we stayed in a standard room in the main building (which does cost a little extra). Both rooms were clean, cosy, in mostly good condition, and much more spacious than it looks in photos. There's subtle Bambi-theming across the top of the walls and also some Bambi artwork. Housekeeping was once a day so we always came back to a clean and tidy room with our beds made.
(Click an image to zoom in and tap the left/right sides to jump through the photos)

The only real criticism I would have is there aren't many plug sockets and the main ones are quite hard to get at. An extension cable is a must. In 2023, Disneyland Paris has put a wireless charging brick in the rooms that allows one phone to wirelessly charge with an extra plug and USB slots on the sides which is great. There's no fridge (which was a shame) in standard rooms, and no iron either, but you can request an iron to be brought to your room.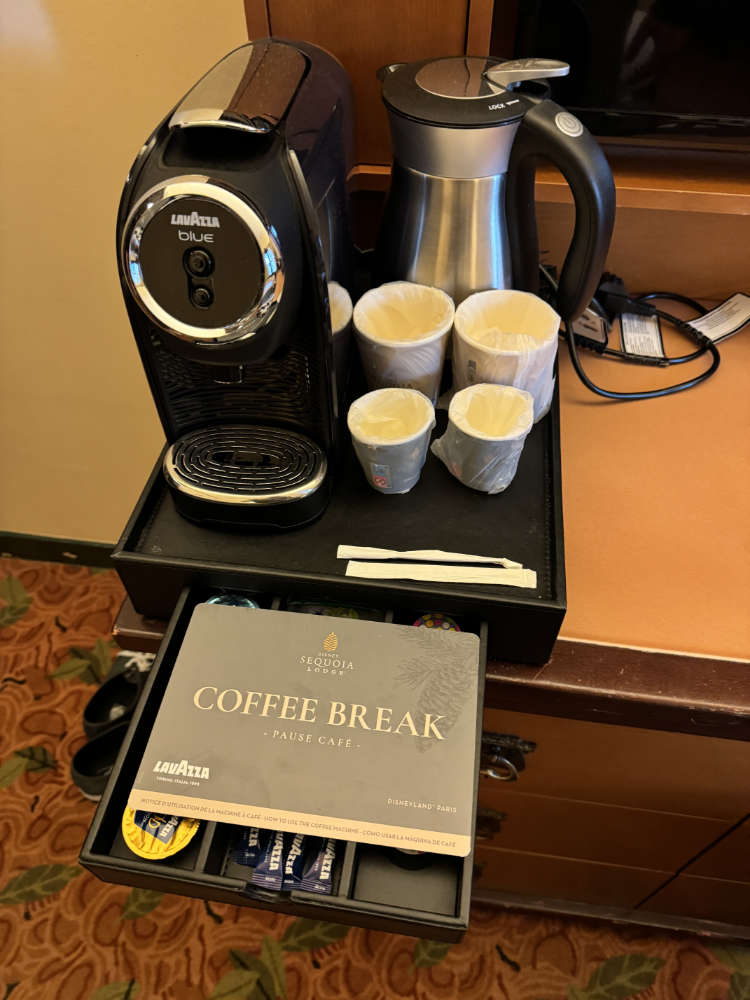 In 2023, amenities for this hotel were improved. A coffee machine and kettle were added! The communal coffee machines appear to be removed, but now you can make coffee (or tea) in your room. For hot chocolate lovers, sadly there's no way to get one unless you bring your own sachets.
Restaurant & Lounge
The dinner restaurant at this hotel is called Hunter's Grill. It's an all-you-can-eat buffet which costs around 40 Euros each (plus drinks). The restaurant opposite (Beaver Creek Tavern) is mainly used for breakfast. There's a good selection of duck, deer, salmon, chicken, cold-cut meats, soups and salads, and a wide range of desserts. The selection and quality were good. I would rate it higher than La Grange at Billy Bob's at Disney Village, but the offerings between these two restaurants are similar.
The Redwood Bar & Lounge at Disney's Sequoia Lodge is lovely. We found ourselves visiting most nights. Keep in mind the seats do have quite a low back and can get a little uncomfortable after a while, but if it's quiet you can grab one of the super comfy sofas by the fire. The ambience is so calm and relaxing and by far my favourite place to relax at Disneyland Paris. The service is great and the selection of drinks is good as well.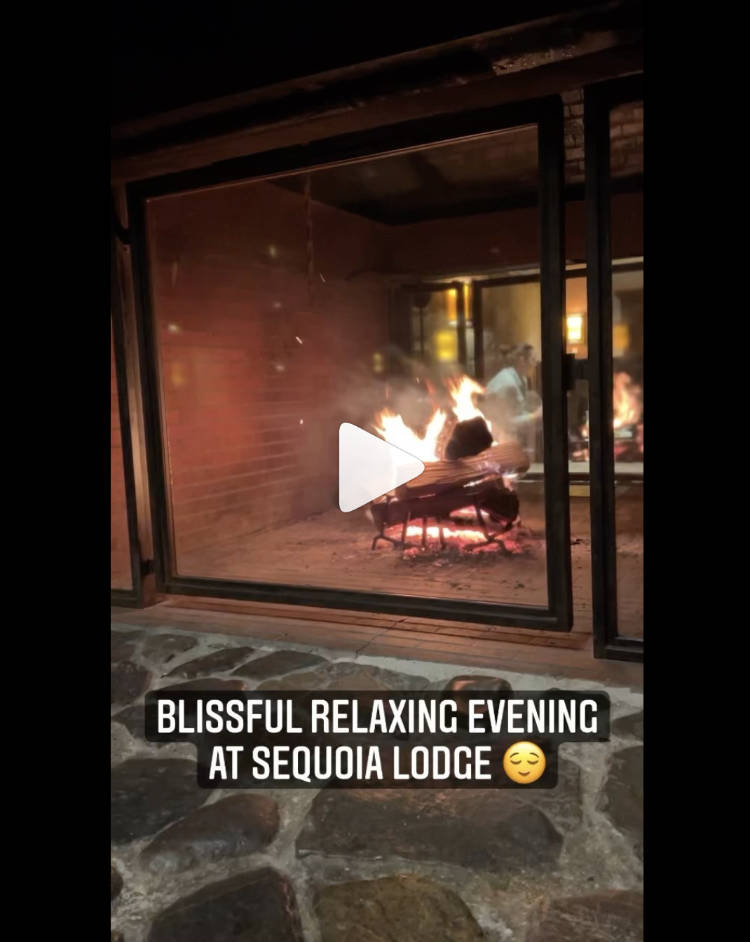 (View Sequoia Lodge Redwood Bar Lounge ambience on our Instagram reel above)
The Hotel
The hotel absolutely gives you Disney's Animal Kingdom Lodge vibes throughout (sans animals). The whole hotel is warm and cosy and has a really nice distinct smell. It has a very relaxing atmosphere, even if it can be a little confusing to navigate.
Summary
Disney's Sequoia Lodge is a beautiful hotel that is reasonably priced for a 3-star on-site Disney Hotel. Other than the lack of a fridge in the room, it has everything you need in a relaxing well-themed hotel. The hotel and the rooms have started to look a little tired though, but there is a refurb on the horizon. However, I would absolutely stay here again. The other 3-star hotel is
Disney Cheyenne Hotel
, and I would recommend staying at
Disney Sequoia Lodge
as long as the price isn't too much higher. Sometimes they're on par, but there are times of the year it can fluctuate.
Click here to check out Disney Sequoia Lodge >>>
We have reviewed other Disneyland Paris hotels, too! View our
Disneyland Paris Reviews
page to see our other hotel reviews.
Read Next
---
---